Aperçu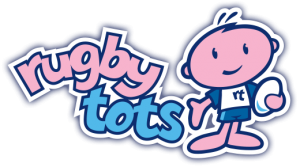 5ème camp Rugbytots La Côte
Date:  du lundi 5

 juillet 2021 au vendredi 9 juillet 2021

Catégories: 4 à 7 ans
Lieu: Centre sportif de Colovray, à Nyon
Notre 4ème camp Rugbytots La Côte se déroule du lundi 5 au vendredi 9 juillet, au centre sportif de Colovray, à Nyon. Le camp est ouvert aux FILLES & garçon âgés de 4 à 7 ans!
Rugbytots La Côte vous propose le premier programme d'éveil et de motricité autour du rugby sans contact ! Rugbytots est une activité sportive pour FILLES & garçons dont la mission est de leur permettre de développer leur coordination et leur socialisation de manière ludique, dans un environnement totalement sécurisé. Les séances du camps sont bilingues français-anglais. Dans le cadre du camp d'été, nous proposerons en complément des activités sportives et jeux Rugbytots, des ateliers dédiés au développement créatif.
Rendez-vous chaque jour de cette semaine de 10h00 à 16h00. 

Possibilité d'amener vos enfants à 09h00 et de les récupérer à 17h00.
Repas de midi + Goûter inclus.
Prix total: 370 CHF la semaine ou 95 CHF la journée. 
Réservation sur notre site internet : https://bit.ly/2VMlX8S

Veuillez nous informer lors de l'inscription de toutes allergies alimentaires. 
Suivez-nous sur Facebook, Instagram & Twitter !
Contact: Loïc – 078 691 19 23 / adrien@rugbytots.ch
Program Summer Camps Tots Rugby 2021
Overview
Our 4th Rugbytots La Côte camp takes place from Monday 5th to Friday 9th July at the Colovray sports centre in Nyon. The camp is open to GIRLS & boys aged 4 to 7 years old!
Rugbytots La Côte is the first motor skills non contact rugby program! Rugbytots is a fun activity for GIRLS & boys whose objective is to allow them to develop, in a safe environment, their coordination and socialisation in a playful way. The camp sessions are bilingual French-English. In addition to the Rugbytots' sports activities and games, we will organise creative activities.
Rendezvous every day of the week from 10:00 am to 4:00 pm.
Possibility drop your children off at 09.00 am and pick them up at 5.00 pm.
Lunch + snacks included.
Total price: 370 CHF per week or 95 CHF per day.
Please inform us of any food allergies when registering.
Program Summer Camps Tots Rugby 2021
PRIX DU CAMP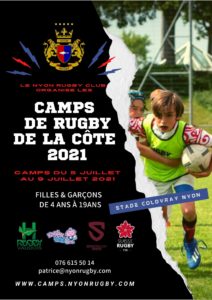 95 CHF la journée.  

370 CHF la semaine.  
Suivez-nous sur Facebook, Instagram & Twitter !
Contact: Loïc – 078 691 19 23 / adrien@rugbytots.ch
Poster by Maans Dye
Centre Sportif Colovray
Nyon Rugby Club
Nous restons à votre disposition pour tout renseignement